Healthy Dinner Ideas – 15+ Healthy Recipes For All Diets
THIS POST MAY CONTAIN AFFILIATE LINKS, WHICH MEANS THAT I MAKE A SMALL COMMISSION OFF ITEMS YOU PURCHASE AT NO ADDITIONAL COST TO YOU. PLEASE SEE MY
FULL DISCLOSURE POLICY
FOR DETAILS
These healthy dinner ideas are easy, healthy, and very tasty recipes that you can make for a simple dinner or to impress your guests.
You'll find my best keto, healthy, vegan, or gluten-free dinner options. All you have to do is to pick what's best for you!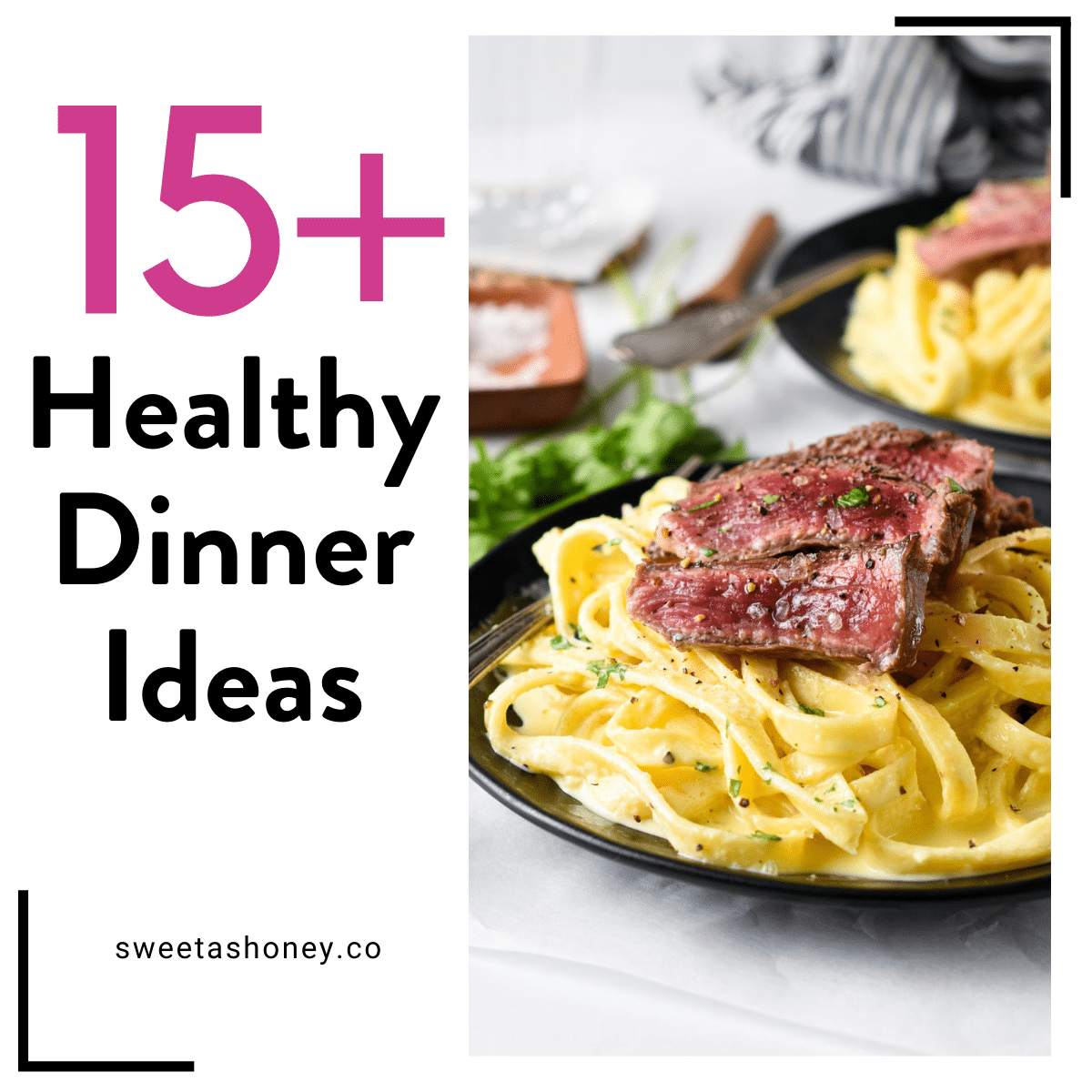 What Are Healthy Dinners?
Healthy Dinners are delicious recipes made with classic, wholesome ingredients that are fulfilling and simple instructions.
They are healthy dinner options because none of them are loaded with sugar, complicated, or refined ingredients.
But these recipes don't skimp on taste and flavor!
1. Keto Healthy Dinner Ideas
Summer BBQ Keto Dinner
If you need a quick Barbecue-friendly keto dinner that you can eat with your finger, combine my Zucchini Boats with my keto chicken nuggets.
Keto Chinese Dinner
To make your own Panda Express-style dinner, you can make my Keto Orange Chicken. It taste just like classic orange chicken without the carbs.
I love to make it with my coconut cauliflower rice. There's something about this that turn any Chinese Keto dinner into a real experience.
Healthy Southern Comfort Dinner
For a banger of a keto dinner with all the flavors of the Amercian south, combine my much-loved Keto Jambalaya with a hearty smoked cauliflower.
Keto Mexican Dinner
For an authentic Mexican food taste without the carbs, I make my Corn Tortilla that I fill with Guacamole, Salsa, and chicken cooked in my taco spices, and I add a side of Beef Empanadas.
Winter Keto Dinner Idea
For a heart-warming winter dinner, I recommend combining my keto chicken marsala with my French Green Beans.
Dipping the green beans in the creamy Marsala mushroom sauce is the best. And if you're still hungry, add a French Onion Soup!
Keto Italian Dinner
For a keto Italian dinner, start with Keto Spaghetti And Meatballs and top it up with my delicious Focaccia.
Healthy Keto Asian Dinner
This is the keto version of your classic Asian takeaway dinner. Black Pepper Angus Steak with Keto Rice.
Enjoy the same taste without the carbs.
2. Vegan Dinner Ideas
Healthy Italian Dinner
For a simple, healthy Italian vegan dinner, I recommend combining my Zucchini Noddles with my vegan bread loaf. The bread is made with healthier flour: almond flour and coconut flour.
Healthy Indian Dinner
For a delicious healthy Indian dinner, I recommend combining the following recipes. The cauliflower rice, naan bread, and vegan curry are the perfect match.
Together, they taste delicious and will impress your guests.
Healthy French Vegan Dinner
This healthy French dinner is made of several typically French recipes. The combination of the mustard Brussels Sprout with the French Fries is perfect.
Add to that a healthier French baguette to finish the sauce, and you'll be in Paris.
Healthy Vegan Mexican Dinner
Make an all-in-one Mexican dinner recipe with my Enchilada Casserole
3. Healthy Gluten-Free Dinner Ideas
Healthy Pasta Dinner
My first choice is to make a delicious Steak Alfredo Fettuccine with its Marinade. The pasta are gluten-free pasta, and the steak is cooked to perfection.
Healthy Pizza Dinner
Then, one of my family's favorite dinners – and many others' – is a good pizza.
Make the following Buffalo Chicken Pizza to feed a crowd! With a gluten-free pizza base, it's absolutely delicious!
4. Healthy Classic Dinners
Classic Healthy French Dinner
A classic French Dinner combines savory and sweet. It starts with vegetables,
Classic Healthy Italian Dinner