Homemade Pancake Recipe From Scratch
This Pancake Recipe is an easy weekend breakfast recipe to whip up in 10 minutes.
Plus, this authentic American pancake recipe is very versatile, and you can add many flavors to it to create a range of delicious pancakes.
I love French crepes for breakfast, but my kids prefer pancakes, so I came up with this fantastic, easy pancake recipe for them.
The great thing about this recipe is that kids can make the pancake batter themself, as it's super simple to bring together.
You can easily adapt this recipe to make dairy-free pancakes or chocolate chip pancakes.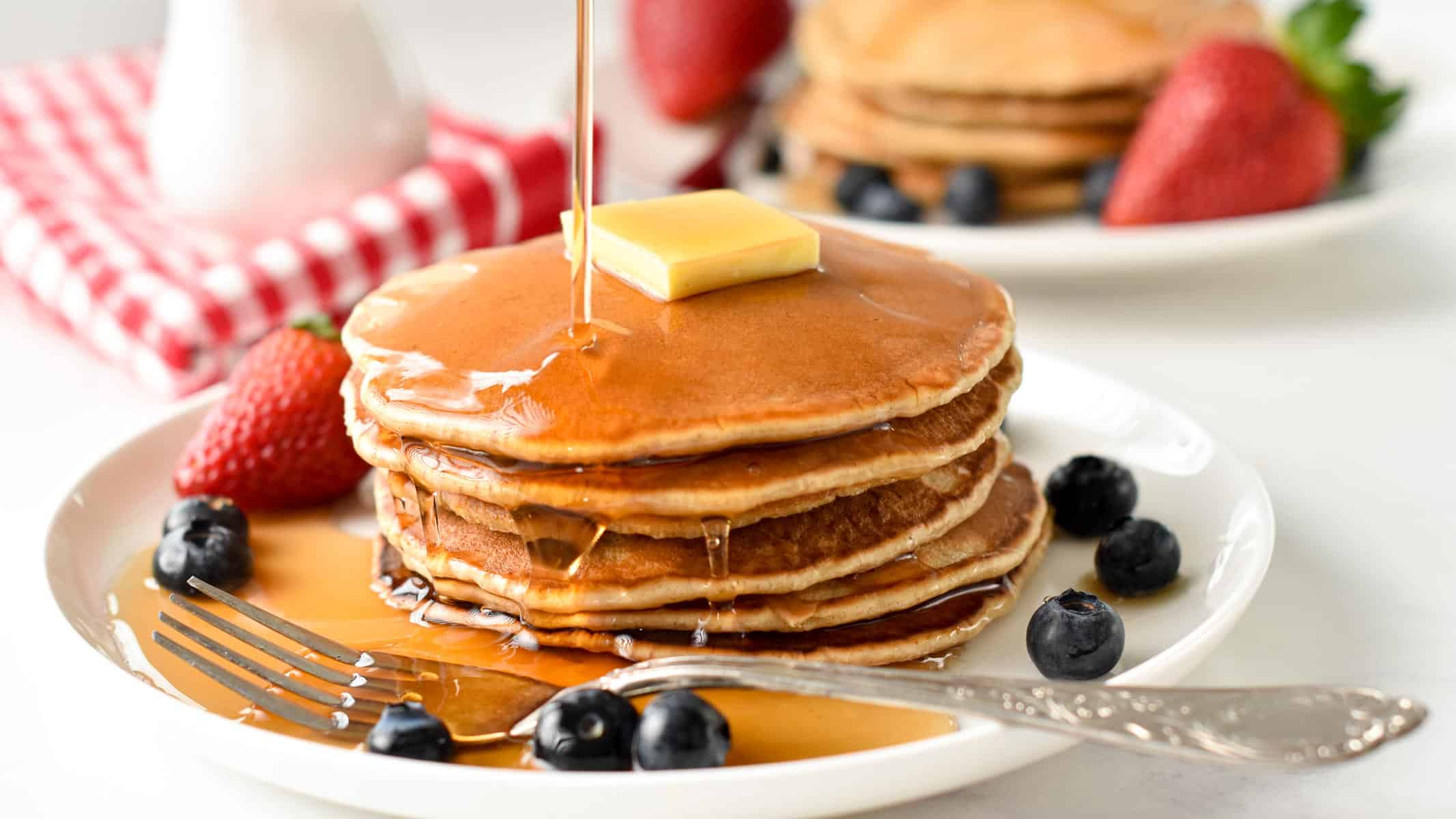 How To Make Pancakes
These large, thin pancakes are so easy to make that they will become a staple in your kitchen.
They are not thick, fluffy pancakes but they are more like American café-style pancakes. Thin and buttery.
Ingredients
All you need to make classic pancakes are a few simple ingredients that you probably have at home:
All-Purpose Flour – I didn't try the recipe with all-purpose gluten-free flour but I am pretty sure it will work. The texture will probably vary since gluten-free flour makes baked goods a bit more chewy and packed.
Milk of Choice – you can use any milk you love to make pancakes. Keep in mind that the less fat and protein the milk contains, the dryer the pancakes will be. Best result are achieved with full-fat milk, or soy milk.
Apple Cider Vinegar or lemon juice. It brings the acidic component necessary for the batter to rise.
Baking Powder – Not baking soda.
Eggs – Fresh, large, free-range eggs.
Melted Butter – I prefer grass-fed unsalted butter.
Vanilla Extract – Because vanilla makes baking recipes so much better.
Salt
Cinnamon
You can make perfect pancakes in four easy steps. It's easier and better than using a pancake mix and much tastier!
Step 1: Making Homemade Buttermilk
First, whisk the warm milk and vinegar for a few seconds in a mixing bowl.
Set it aside for 5 minutes to curdle. This is your homemade buttermilk. It makes the pancakes ultra tasty!
Step 2: Whisking Liquid Ingredients
Then, whisk in eggs, vanilla extract, and melted butter and combine them.
Step 3: Combining The Pancake Batter
In a large mixing bowl, add the flour, baking powder, salt, and cinnamon.
Whisk to incorporate the dry ingredients together and break any remaining flour lumps. Make a well in the center and pour the liquid ingredients.
Whisk to combine the liquid ingredients with the dry. The batter should be smooth and slightly thick but easy to whisk.
Step 4: Cooking Pancakes
Warm a pancake griddle and use a piece of absorbent paper to rub butter or oil over the skillet. Avoid adding too much oil that would fry the pancake batter and make the edges crunchy.
Pour 1/4 cup of pancake batter on the hot griddle and cook for 2 to 3 minutes or until you can see bubbles forming all over the pancake surface.
Slide a flat spatula under the pancake and flip it to its other side. Cook for an extra minute until the pancakes are golden brown and set.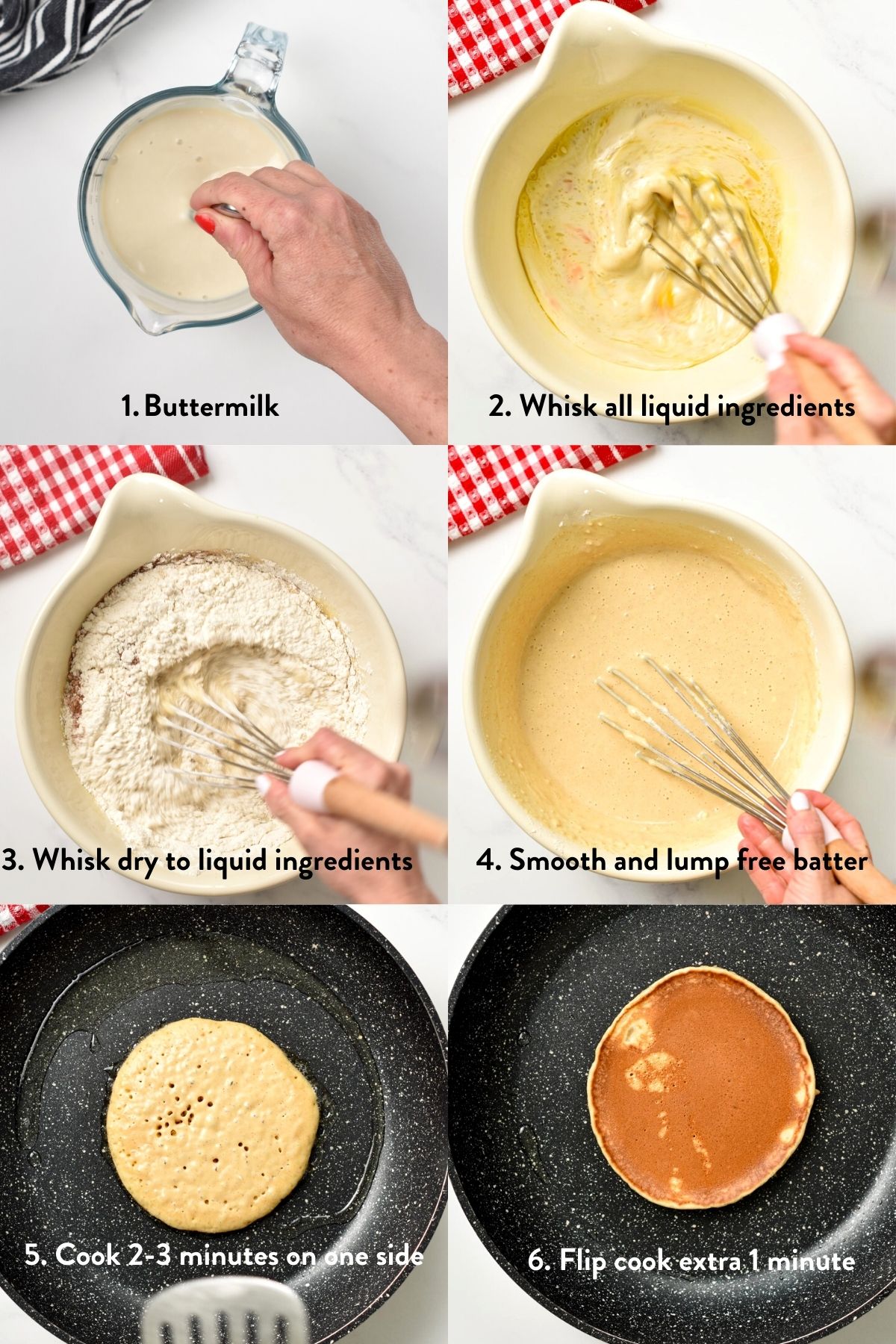 Pancake Add-Ons
Just after adding the 1/4 cup of batter on the griddle, you can sprinkle:
Blueberries
Chocolate Chips,
Chopped Nuts
Shredded Coconut
Or any pancake add-ons you love.
Then, add some more batter to cover the berries or chocolate chips to avoid them sticking to the griddle when you flip the pancakes.
Keeping Pancake Warm
If you want to keep the cooked pancakes warm while cooking the remaining batter, preheat the oven to 175°F (80°C).
Place the cooked pancakes on a baking sheet and cover them with foil. Store in the oven while cooking the remaining pancakes.
Serving
These pancakes are thin, wide, and better served as a stack of 3 or 4.
Top the warm pancakes with a piece of butter, fresh berries, and a drizzle of authentic maple syrup.
Other pancake topping ideas are:
Jam or my Chia Jam
Whipped Cream
Banana Slices, Fresh Strawberries
Peanut Butter
Storage Instructions
There are two ways to store the leftover homemade pancakes.
First, you can store the pancakes for up to 3 days in an airtight box in the fridge.
Stack the pancakes in a container and keeps them in the refrigerator. Next, you can freeze pancakes.
However, pancakes tend to stick to each other after being frozen.
That's why you should put a piece of parchment paper between each pancake and then
Allergy Swaps
Below are suggested allergy swaps if you can't use some of the ingredients listed in the recipe below:
Dairy-Free – You can replace melted butter with melted coconut oil, canola oil, or avocado oil. For the milk, pick your favorite plant-based milk, like oat milk, almond milk, or coconut milk.
Sugar-Free – You can sweeten the pancake batter with a sugar-free natural sweetener like erythritol or a few stevia drops. You can also skip the sweetener if preferred.
Gluten-Free – The recipe should work with a good quality 1:1 gluten-free all-purpose flour blend. Make sure your baking powder also is gluten-free.
Egg-Free – I didn't try the recipe with egg replacers, but I am confident that two flaxseed eggs would work. Stir two tablespoons of flaxseed meal with 1/3 cup of lukewarm water. Set aside for 10 minutes and use as an egg replacer.
Frequently Asked Questions
Below are the answers to your most frequent questions about making pancakes.
Can I Freeze Pancakes?
Yes, you can freeze pancakes. The best is to freeze them in a single layer on a baking sheet for 1 or 2 hours. This is called flash freeze.
The pancakes are half frozen and hard enough to be transferred to zip-lock bags.
Make sure you slide a piece of parchment paper between each pancake as you stack them in the bag or airtight container.
This prevents the pancakes from sticking to each other and it gets easier to thaw them later.
How Can I Thaw Pancakes?
The day before, bring the frozen pancakes on a plate in the fridge.
The next day or 4 hours later, they should be back to their regular texture and ready to be rewarmed and eat.
What Is The Best Way To Rewarm Pancakes?
You can rewarm pancakes in a warm pancake griddle.
It's also possible to pop the pancakes in a bread toaster on medium heat for a few minutes minutes. Another option is to air fry pancakes for about 1 to 2 minutes at 260°F (130°C).
How Can I Make Fluffy Pancakes?
To turn this recipe into fluffier pancakes, use one tablespoon of baking powder and reduce the milk to 1/2 cup to thicken the batter.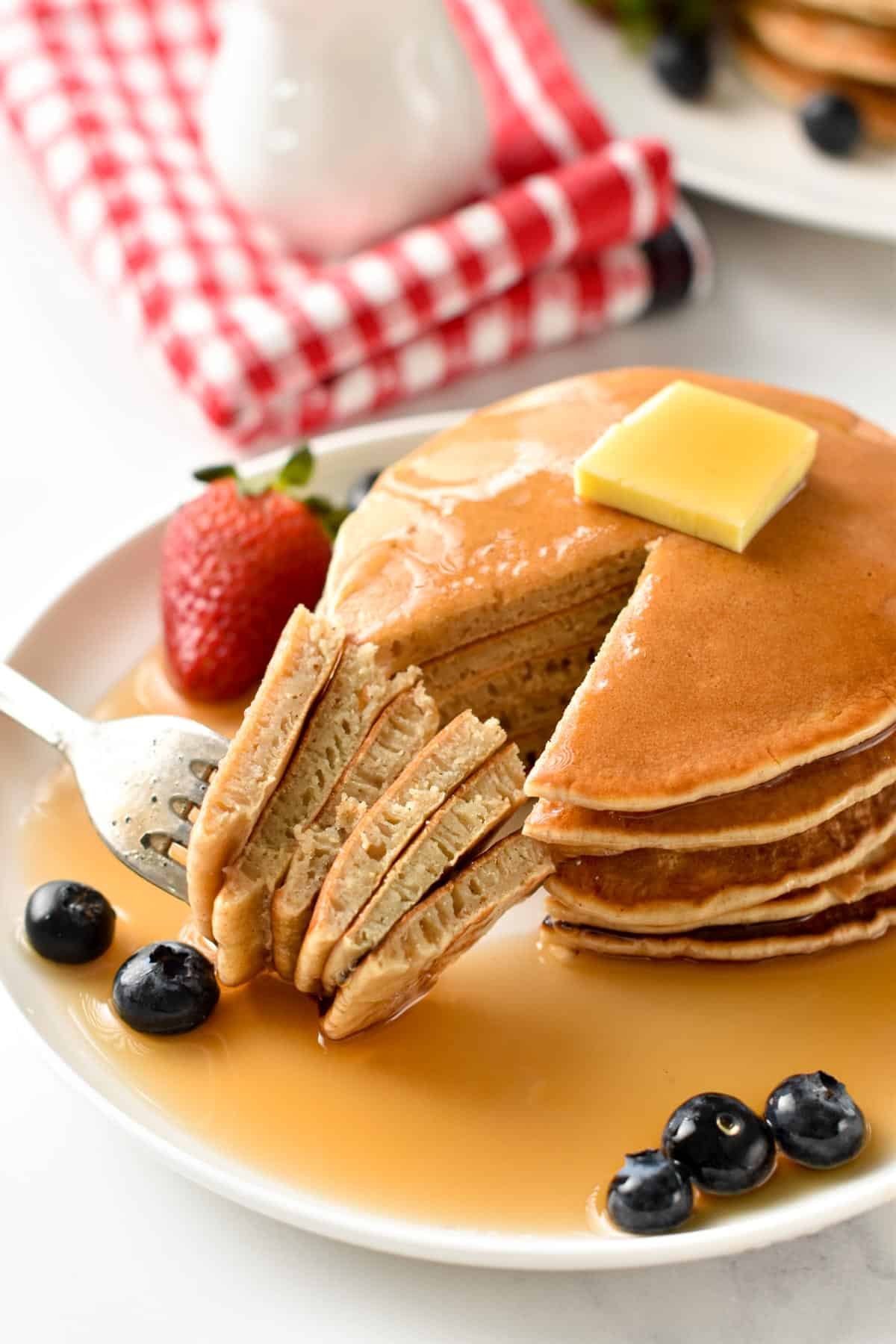 More Pancake Recipes
Here are more homemade pancakes recipes for you to try.
Did you try this making pancakes from scratch using this recipe? Share a comment or review below to connect with me.
Pancake Recipe
This Pancake Recipe is an easy weekend breakfast recipe whipped up in 10 minutes. Plus, this authentic American pancake recipe is very versatile, and you can add many flavors to create a range of delicious pancakes.
Yield:
8
pancakes (1/4 cup each)
Serving Size:
1
pancake (1/4 cup each)
Nutrition
Want My Kitchen Equipment?
Ingredients
To cook pancakes
1-2

tablespoons

Oil

coconut oil or olive oil or butter
Instructions
In a mixing bowl, whisk milk and vinegar. Set it aside for 5 minutes until it curdles and forms a buttermilk texture.

Whisk in melted butter, eggs, and vanilla.

In a large mixing bowl, whisk the flour, baking powder, salt, sugar, and cinnamon. Make a well in the center of the dry ingredients.

Pour the wet ingredients into the well.

Whisk all the ingredients together until a smooth pancake batter forms. It's ok if a few lumps remain.

Warm a pancake skillet over medium-high heat. Grease with oil using a piece of absorbent paper to rub the pan – avoid adding too much oil, or it will fry the pancakes.

Scoop out 1/4 cup of pancake batter on the warm griddle, the batter will expand quite a lot, and that's normal. Cook for 2-3 minutes on one side or until it forms bubbles and dries out on the sides.

Flip the pancake to the other side and cook for an extra minute.

Repeat until all pancakes are cooked.

Serve warm as a pancake stack with butter and maple syrup.
Storage and freezing
Store leftover pancakes in the fridge in an airtight container for up to 3 days or freeze them for up to 1 month in zip-lock bags. Make sure you add a piece of parchment paper between each pancake before freezing, or they stick to each other. Thaw in the fridge the day before.
Note 1: You can use any milk for this recipe, including non-dairy milk: oat milk, soy milk, or almond milk. Note 2: You can also use avocado oil or melted coconut oil for a dairy-free pancake recipe.
My Recipe Notes
Nutrition Facts
Pancake Recipe
Amount Per Serving (1 pancake (1/4 cup each))
Calories 168.7
Calories from Fat 56
% Daily Value*
Fat 6.2g10%
Cholesterol 42.8mg14%
Sodium 225.7mg10%
Potassium 94.2mg3%
Carbohydrates 22.8g8%
Protein 4.8g10%
Net Carbs 22.1g
Vitamin A 190.6IU4%
Vitamin B12 0.3µg5%
Vitamin C 0.01mg0%
Vitamin D 0.6µg4%
Calcium 113.5mg11%
Iron 1.4mg8%
Magnesium 11.2mg3%
Zinc 0.4mg3%
* Percent Daily Values are based on a 2000 calorie diet.