Almond Flour Pie Crust (Keto, Gluten-free)
This Gluten-free Almond Flour Pie Crust is an easy 5-ingredient low-carb keto pie crust perfect as a base for any sweet pie recipe.
Bonus, this pie crust is also gluten-free, paleo-approved, with a dairy-free option provided.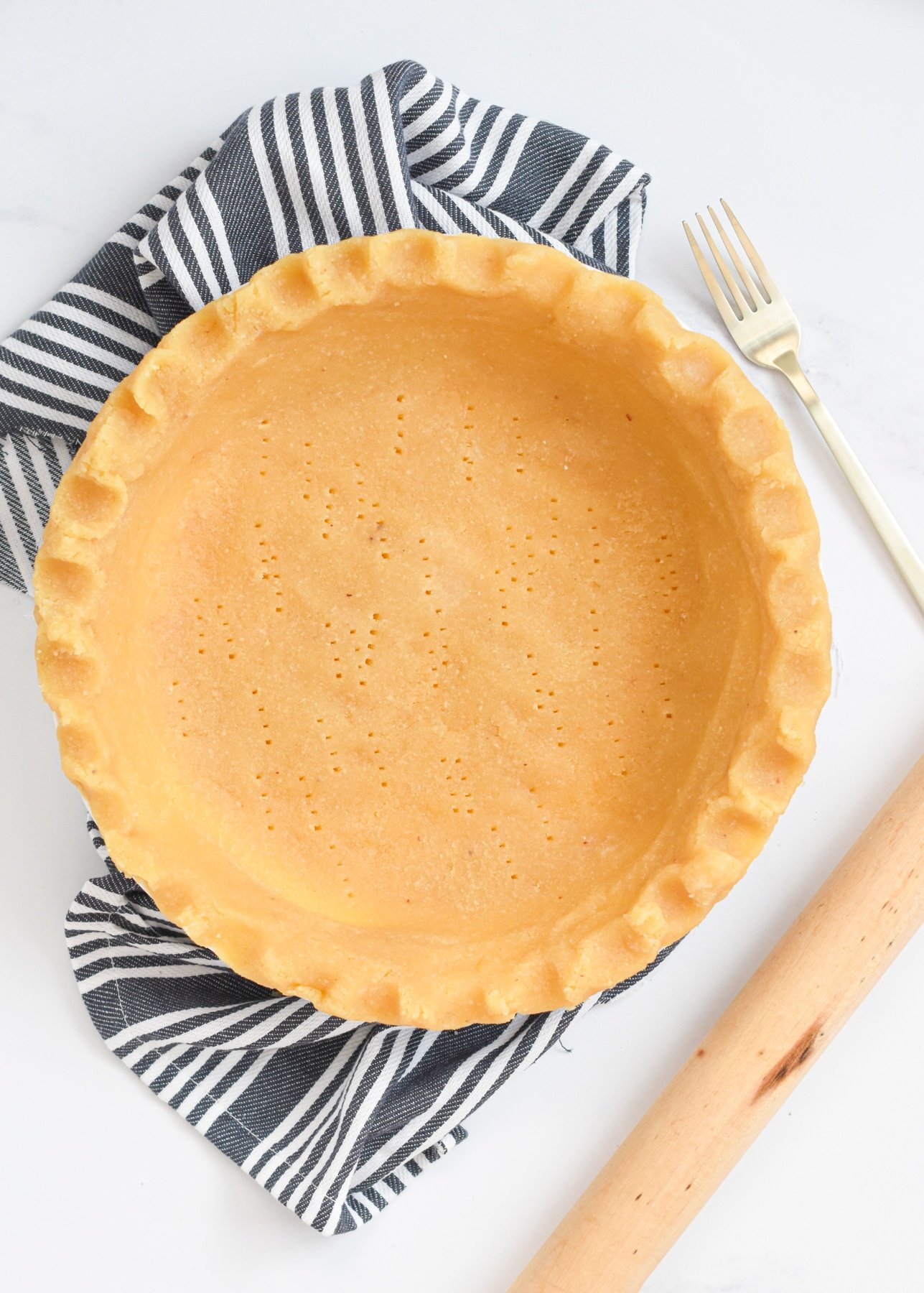 The holiday season just started, and all we want is to bake pies!
If you are new to the keto diet and want to bake a keto pie for Thanksgiving or Christmas, this keto pie crust with almond flour is the easiest for beginner keto bakers.
The good news is, this almond crust is not only for keto food overs.
It's simply a healthier pie crust using almond flour and, therefore, a delicious gluten-free pie crust that will also suit your diabetic guests.
In fact, almond flour is a low-carb keto-friendly flour. It means it's low in starch and carbs, and it's the perfect option to make any diabetic desserts this Thanksgiving.
What's An Almond Flour Pie Crust?
An almond flour pie crust is a simple 1-bowl pie crust made of almond flour. It's a gluten-free and low-carb dough perfect for any sweet dessert pie like my keto pumpkin pie or lemon pie.
So this pie crust with almond flour is naturally:
Gluten-free
Low-carb
Paleo
Grain-free
Sugar-free
How To Make Almond Flour Pie Crust
It's very simple to make this 5-ingredient gluten-free pie crust with almond flour. You don't need any fancy kitchen appliance – I know some recipes call for a food processor, but it's not a must-have.
Ingredients
All you need to make this low carb pie crust recipe is a bowl, a mixing spatula, and the pantry ingredients below:
Ultra-fine Blanched Almond Flour – this is the best almond flour for a tasty pie crust. Almond meal won't work as well. It makes the crust dark in color and slightly grainy texture.
Melted Butter or melted coconut oil for a dairy-free option.
Large Egg at room temperature.
Granulated Sweetener – I used a keto-friendly sweetener, erythritol, but any crystal sweetener works well. You can also skip the sweetener to keep the pie crust plain.
Vanilla Extract – this adds a delicious flavor to the recipe.
Making the dough
First, prepare the dough for your pie by following the 6 steps below.
Measure all the ingredients into small bowls for precision. Always measure almond flour with US standard measuring cups that are slightly packed in the cup and swept on top to remove any extra. In fact, adding too much almond flour to this dough makes it crumbly, dry, and hard to roll. Measure the flour carefully to avoid that. Also, beat the egg in a small bowl, and measure your fat melted.
Place all the ingredients into a mixing bowl, starting with the dry ingredients, and top with the liquid ingredients.
Stir with a silicone spatula or wooden spoon at first until the dough forms a crumble.
Knead by hands, pressing the dough to bring ingredients together into a dough ball. If too dry, add a few teaspoons of water to bring the ingredients together.
Place the dough ball between two-piece of parchment paper slightly oiled with coconut oil. Press to flatten the dough ball and start rolling as you would roll any pie crust. Aim for 1/8 inch (0.3 cm).
Peel off the top piece of parchment paper and set it aside.
Filling the pan with the crust
Now, grease a 9-inch pie crust with butter or coconut oil. You can also use an 8-inch, but you will have some dough left.
Slide your hand under the piece of parchment paper with the rolled pie crust on it. Now, work fast as you flip it over the pan. Yes, the curst will crack, and that's fine because you can reshape the dough in the pie dish later.
Peel off the top piece of parchment paper to release the crust in the pie plate.
Use the extra dough falling on the side of the pie pan to patch any hole in the pie.
Use the back of a spoon to smoothen the added pieces of dough.
Prick the crust all over using a fork.
Protect the sides of the pie crust with foil to prevent this part from burning and darkening too fast.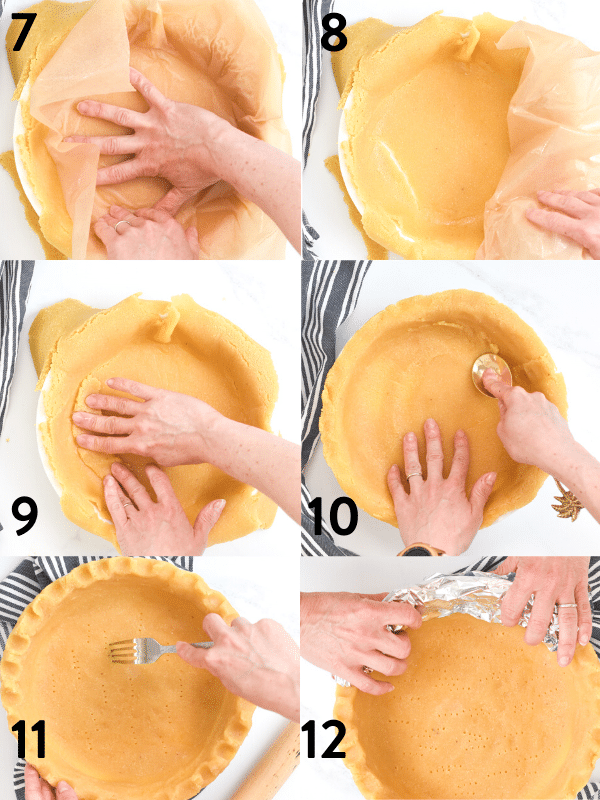 Prebaking the crust
Now, it's time to pre-bake the pie crust. Place the pie dish in the center rack of a preheated oven at 350°F( 180°C) for 15 to 20 minutes.
When the crust looks slightly golden, remove it from the oven and fill it with the pie filling of your choice.
Baking the filling
Return the pie to the oven following your pie recipe for the right timing to set the pie filling.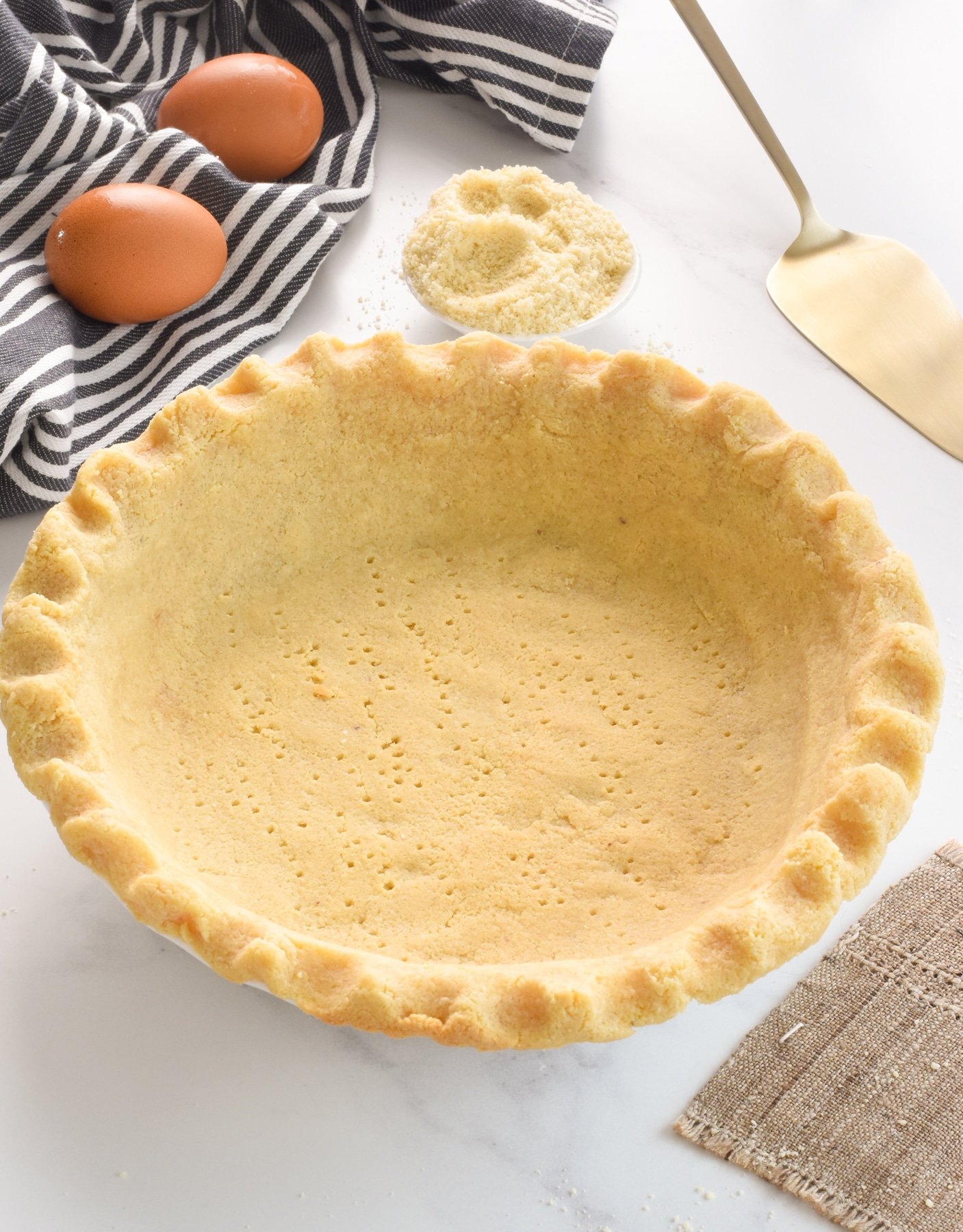 Pie recipe ideas
You can make all sorts of sweet pies using this almond pie crust. The most popular are apple pie, pecan pie, or some of my favorites are:
Make it ahead
You can make ahead this healthy gluten-free pie crust up to 2 days before filling it.
I recommend first rolling the crust and filling the pie pan. Next, cover the pie pan with plastic wrap and store it in the pie dish in the fridge until the day you need it.
The day you are ready to bake, remove from the fridge, pre-bake and follow the instructions below.
You can freeze the pie crust rolled, filled in the pan, or flattened into a dough disc. Then, wrap it in plastic wrap and thaw the day before at room temperature.
Frequently Asked Questions
Can I make this pie crust egg-free?
Yes, you can replace the egg with an egg replacer you like, including a flax egg to make an almond flour pie crust vegan version.
Can I make a savory pie with this recipe?
Absolutely, yes! Skip the sweetener in the recipe and use half a teaspoon of garlic powder instead.
Should I prebake the crust?
Yes, it's always recommended to prebake grain-free pie crust for at least 15 minutes at 350°F (180°C) in the center rack of your oven.
Can I use coconut flour?
No, you can't swap almond flour with coconut flour in the same ratio. Both flours are very different. Coconut flour is very high in fiber and liquid absorbent, so you would use way less of this flour. Try my coconut flour pie crust if you really want to bake a pie with coconut flour.
More Healthy Gluten-free Pie Crust Recipes
If you want to bake a dessert pie this holiday season, but you are looking for a healthier pie crust, try some of the below options:
Have you made this keto almond flour pie crust recipe? Share a comment or review below to let me know which pie you baked with this lovely, healthy pie crust!
Almond Flour Pie Crust
An easy Almond Flour Pie crust for any gluten-free pie recipe or keto pie recipe.
Yield:
8
servings from a 9-inch pie dish
Nutrition
Want My Kitchen Equipment?
Instructions
Grease a 9-inch (26 cm) pie pan with butter. Set aside.

In a large mixing bowl, combine the dry ingredients: almond flour, salt, and sweetener.

Stir in cooled melted butter, vanilla, and beaten egg.

Combine with a spatula at first, then knead with your hand to form a pie dough (Watch my step-by-step picture above in this post for visual help).

Place the dough ball in the center of two pieces of greased parchment paper and roll into a large1/8-inch thick rectangle.

Peel off the first piece of parchment paper, slide your hand under the second piece of parchment paper with the rolled crust on it and quickly flip over the grease pie pan.

Peel off the remaining piece of parchment paper to release the dough on the pie dish. The crust will break slightly, that's fine.

Gently push down the rolled crust to fit the pan – some extra dough will fall out on the side of the pan. Use these pieces of dough to patch the holes where the crust breaks. Keep patching holes and smoothen the crust with the back of a spoon.

Prick the crust using a fork and cover the sides of the crust with foil – this prevents the sides from darkening too fast. Preheat the oven to 350°F (180°C).

Prebake the crust for 15-20 minutes. If the center puffs up, use a fork to prick and deflate.

Remove from oven and add your favorite pie filling and return to the oven following the pie recipe to set the filling. You can keep the foil protection on the side of the pan to prevent it from darkening. Bake until the filling of your pie is set.
Storage
You can make ahead this almond flour pie crust up to 48 hours before making a pie. The best is to roll and fill the pie pan with the crust. Fill the top of the pan with plastic wrap to keep fresh and refrigerate until you need to pre-bake and make a pie.
Freezing
Flatten the dough ball into a thick disc, wrap it into plastic wrap, and place it in an airtight container. The double sealing prevents moisture from going into the crust.

Defrost the day before making the pie, unwrap the dough, and place it on the kitchen countertop.
Pie size: You can use an 8-inch pan dish. You will simply have some leftover dough that you can roll, cut out with a cookie cutter and bake as a snack or pie decoration.
My Recipe Notes
Nutrition Facts
Almond Flour Pie Crust
Amount Per Serving (1 slice)
Calories 257.9
Calories from Fat 213
% Daily Value*
Fat 23.7g36%
Cholesterol 38.5mg13%
Sodium 132.3mg6%
Potassium 8.6mg0%
Carbohydrates 7.5g3%
Protein 8.3g17%
Net Carbs 3.8g
Vitamin A 211IU4%
Calcium 78.7mg8%
Iron 1.4mg8%
* Percent Daily Values are based on a 2000 calorie diet.