Prosciutto Wrapped Mozzarella
These Prosciutto Wrapped Mozzarella balls are easy, quick low-carb appetizers for the holiday season. You will love the fresh mozzarella balls wrapped with salty dry Italian ham, basil, and juicy tomatoes.
Bonus, this keto appetizer is gluten-free and perfect for sharing with your family and friends.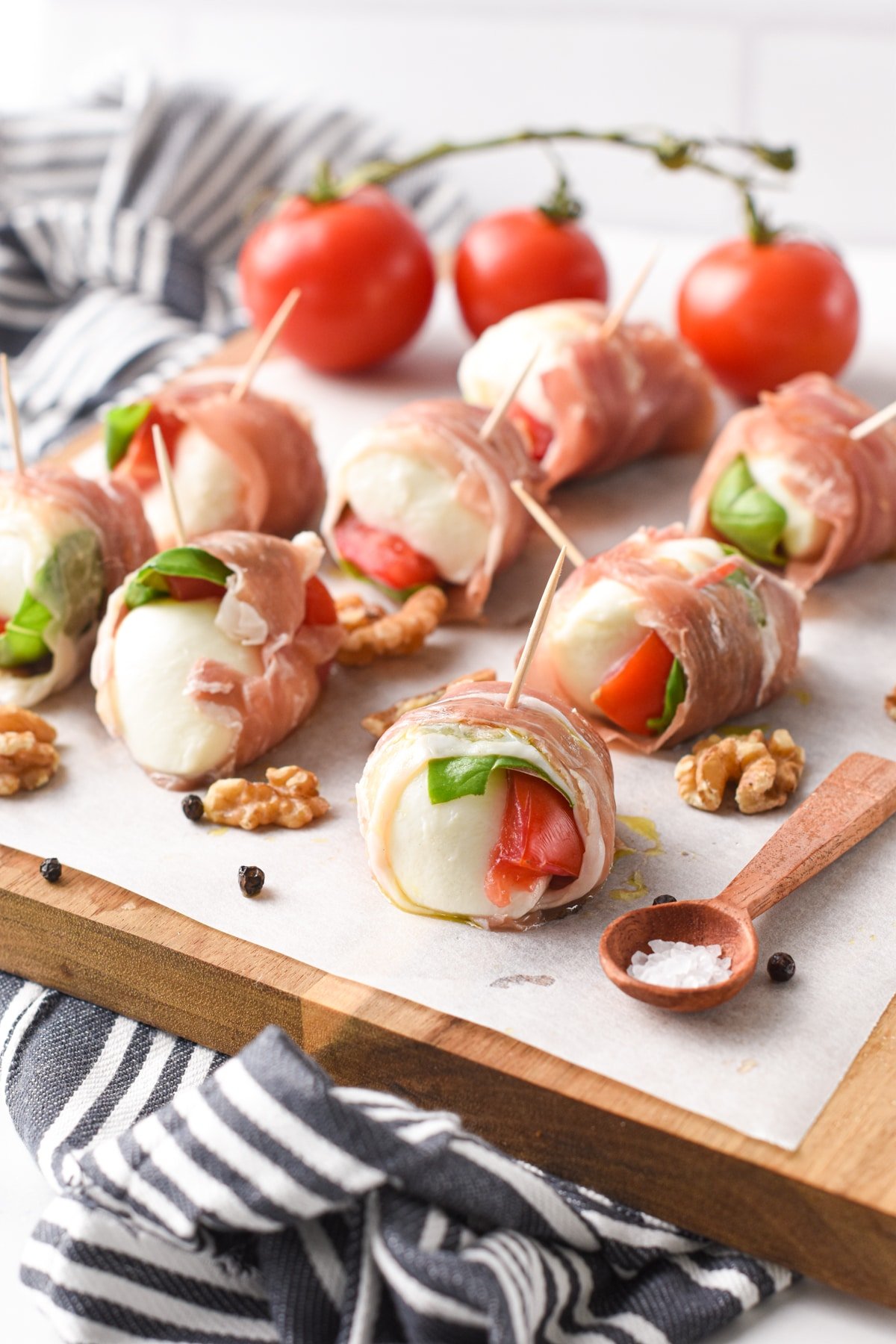 I grew up in Europe, and Italian food is part of my culture and favorite food in the world. Prosciutto and mozzarella balls have been classic Christmas appetizers for my family.
Here, I revisited this simple bite-size food to be even tastier and flavorsome, adding some simple ingredients.
How To Make Prosciutto Wrapped Mozzarella
It's very easy to make this Italian appetizer for your Christmas table or any time of the year as easy party food for game day.
Ingredients
All you need to make these appetizers are:
Cherry Size Fresh Mozzarella balls – use white mozzarella, like Mozzarella De Bufala, not the hard mozzarella sticks I use in my mozzarella breadsticks.
Prosciutto Ham – that's the authentic dry-cooked Italian ham full of flavor and very salty.
Fresh Basil Leaves
Grape Tomatoes
Dressing
These cold appetizers are even better if you drizzle one of the two dressing options below:
Option 1: Olive Oil
Just add a drizzle of garlic-infused olive oil and crushed, toasted walnuts on top of your mozzarella balls.
Option 2: Caprese Dressing
The second option is to make a Caprese Dressing with:
Balsamic Vinegar – it contains a bit of added sugar, but you are using a tiny amount that definitely won't make the appetizers high in carb. But they will be so flavorsome.
Olive Oil
Garlic Powder
Pinch of Pepper
Prepare The Ingredients
Before you start, remove the cherry-sized mozzarella balls from their packaging. Mozzarella is often stored in water, so I recommend pat-drying the mozzarella balls in absorbent paper to remove any extra liquid.
Then, slice each prosciutto ham slice in half, lengthwise.
Finally, cut the grape tomatoes into quarters. Deseed them and pat them dry to remove excess juice.
Rolling The Mozzarella Balls
Now, place a piece of prosciutto ham in from of you, top up with a leaf of fresh basil, a quarter of deseeded tomato, and a mozzarella ball.
Wrap and seal the appetizer with a toothpick at the end.
Serving
To serve these Prosciutto Wrapped Mozzarella balls, add some dressing to boost flavor and a bit of crunch by sprinkling some toasted nuts on top!
See my topping ideas in the recipe card below.
Making Ahead
I recommend making this appetizer just before serving, one hour tops. And store in the fridge. If you make this appetizer ahead of time, the mozzarella tends to dry out or release juice/water into the ham, making the bites less tasty.
Storage
You can store leftover for 24 hours, but the ham tend to soak the tomato juice, and as said before, this recipe is better eaten fresh.
Swaps
You can make this recipe with different herbs or flavors.
For example, you can replace the basil with mint or Italian parsley.
Tomatoes can be swapped for green olives or capsicums.
Finally, you can use these appetizer ideas using other varieties of cheese like fresh feta cubes.
More Low-Carb Appetizer Recipes
Below I listed some easy appetizer recipes for you to try.
Have you made this gluten-free easy appetizer recipe? Share a comment or review below to connect with me!
Prosciutto Wrapped Mozzarella
These Prosciutto Wrapped Mozzarella balls are easy, quick, low-carb appetizers for the holiday season. You will love the fresh mozzarella balls wrapped with salty dry Italian ham, basil, and juicy tomatoes.
Yield:
8
bite-sized appetizers
Nutrition
Want My Kitchen Equipment?
Ingredients
To drizzle on top – just before serving
Instructions
First, prepare all your ingredients: cut the prosciutto slices in half lengthwise, cut the grape tomatoes into quarters, deseed them, and pat them dry with absorbent paper to remove the juice. Remove the mozzarella balls from the water, pat dry in absorbent paper.

In a small mixing bowl, stir balsamic vinegar, olive oil, garlic powder, lemon juice, and pepper. Set aside.

Place a piece of prosciutto ham in front of you, add a basil leaf on one end, next top up with tomato quarter, and finally add the mini mozzarella ball – see pictures above in the post for visual help.

Roll up the prosciutto ball, and add a wooden toothpick at the end to hold everything together.

Just before serving, toast the crushed walnuts in a skillet over medium-high heat. Finely chop.

Serve the appetizer with a drizzle of the fresh balsamic mixture and a pinch of lukewarm crushed toasted walnuts.
My Recipe Notes
Nutrition Facts
Prosciutto Wrapped Mozzarella
Amount Per Serving (1 bite)
Calories 55
Calories from Fat 48
% Daily Value*
Fat 5.3g8%
Cholesterol 3mg1%
Sodium 28.5mg1%
Potassium 25.9mg1%
Carbohydrates 1g0%
Protein 0.8g2%
Net Carbs 0.9g
Vitamin A 63.4IU1%
Vitamin B12 0.1µg2%
Vitamin C 0.9mg1%
Vitamin D 0.1µg1%
Calcium 6.4mg1%
Iron 0.1mg1%
Magnesium 1.9mg0%
Zinc 0.1mg1%
* Percent Daily Values are based on a 2000 calorie diet.